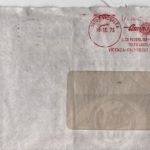 Translation, courtesy of Steven Maasland:
"We have received your welcome letter of September 22, the contents of which we have taken note of.
We confirm to you that we have passed on the greetings that you mention in your letter, here attached you will find our confirmation No. 845/E relating to the 5 complete levers as per your request.
As for the value, we can work that out the first time that we meet up some place in the world
Thanking you for your letter, please consider us to be available for you."